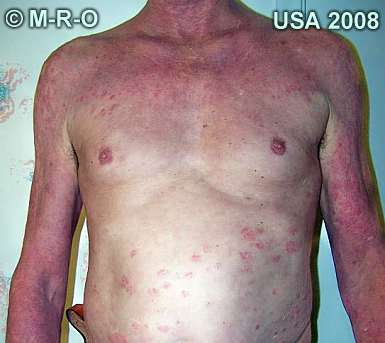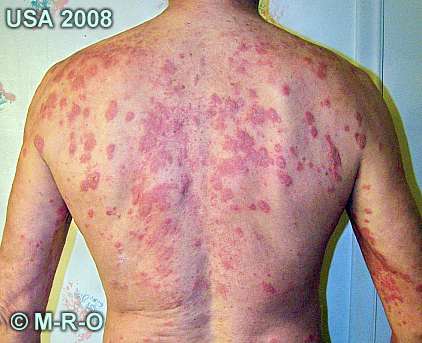 Topical eczema or call it Erythema Multiforme caused presumably by Morgellons. The skin reacts hyperallergenically (eosinophilic inflammatory reaction) to aggressive proteolytic enzymes, toxins or protoplasm. Similarities to protozoa, fungal, Borrelia bacteria, Valley fever or other spirochetal infections. It starts with a small area or pustule, then spreads steadily.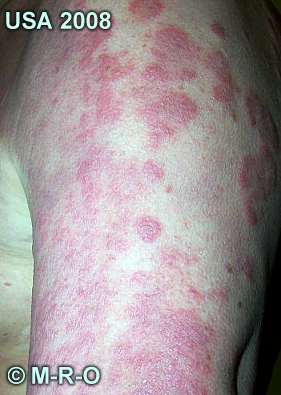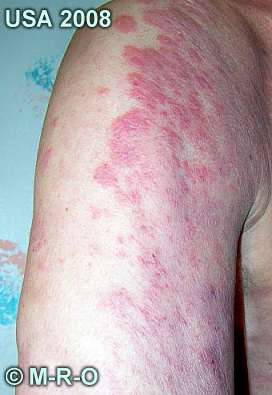 The further cutaneous/subcutaneous spread and enlargement of this allergic rash is furthered mainly by external pressure on the skin and the lymphatic system. A sweat layer is produced, where more pressure is applied. This happens mostly during sleep, when one lays more on certain body areas, such as part of the back, posterior, external leg and arm sides, torso and surely also the head area. Sometimes, even the weight of a T-shirt may cause a rash on the shoulders and the back.
In older people (younger or mobile sufferers may not have symptoms in this extreme way), the lymphatic system is already rather sluggish from a lack of movement or other reasons. This leaves an even greater presence of microorganisms in the lymphatic system and its peripheral tissues, which will cause more skin symptoms (and so due to a higher external pressure) as well more problems with the eyes, tongue, gum, mouth, nose and ears (all extremities).
The fewer the microorganisms one has in the lymph system or skin tissue, the fewer the skin symptoms one has (sometimes a pimple here and there). Most of the usual symptoms (rash, pimples, blisters, pustules) of all sufferers visible on the skin surface are a result of re-infection by clothes (textiles) or environment.