Chronologic process of an epidermal Morgellons infection caused by filaments/fibers, biofilm and exo-enzymes
First skin contact and contamination by single filaments

Filament penetrates itself into the host skin by release of enzymes (keratinase, protease, liptase), with
further emission of the internal protoplasm which cause then an allergic reaction and swelling of this skin area.

After a break through into the skin (Stratum corneum) a small subcutan swelling develops
Which is mostly caused from the subcutan spreading of the biofilm/protoplasm and an enzymatic process

After removing those, sometimes, chain-like fibers and biofilm the wound characteristics
resemble lesions as after an aggressive acid treatment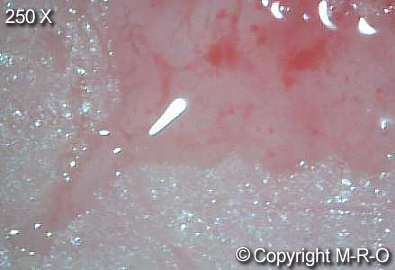 The left picture shows an infested hair with a small fiber elongation.
On the right picture is the cutan propagation of the 3-d-biofilm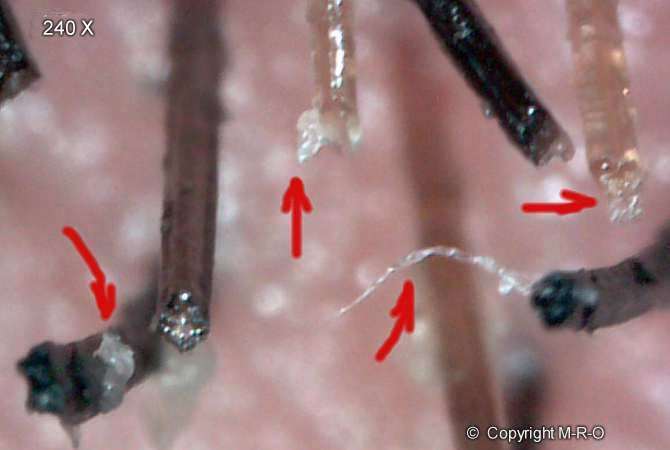 This enlarged view shows better the biofilm elongations on human hairs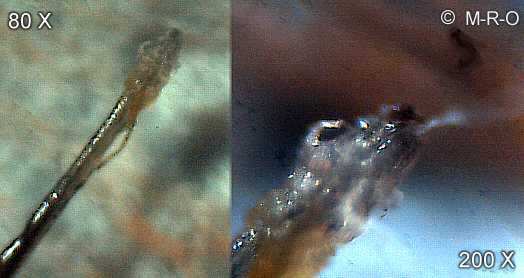 The fibers and biofilm do cover as well the hair roots

Infested hairs with biofilm as granulose, amoboid form. On the right: Fiber is building a single loop
and later a net-like construction, where the points of contact are melted together

Left: These are not hairs but outgrowing fibers which cause also the crawling sensations on the skin.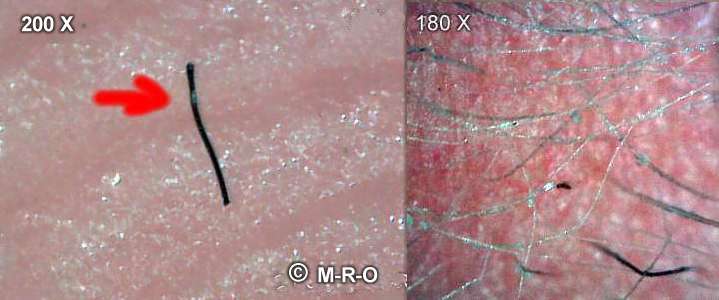 Left: Small black fiber (wildlife spore form) between finger prints (size 0,001 inch)

Above: sometimes also small filaments of keratin (hair-like) are growing increasingly out of the skin,
probably due to involvement of bacteria (increased gland stimulation?)

Morgellons filaments on fecies and on a fingernail

Typical hair infestation, whereby granulose slug-like forms prevail.
Also recognizable in this blob are tiny fibers which grow later out
Watch also this video from fibers made visible with a black light

Isolated green specimen (protein, vegetable?) covered with biofilm
of small filaments growing out in the same way from human skin pores