When all kinds of worldwide specimens were examined from me under the microscope, various body structures were visible, such as single black, glassy or colored tubuli or fibers or accumulation of various fibrils, which were even able to group together and form into a homogeneous structure or corpus (synnemata) to create kind of fruiting bodies.

Also present were the liquid or semi-liquid protoplasm, blebs, spore-like and individual cysts or bubbles, sporangia, and as well insect-like structures.

Left picture: Protoplasm bubble on skin - Right and lower pictures: Mycelium-like fiber bundles
See more pictures under the microscopic picture section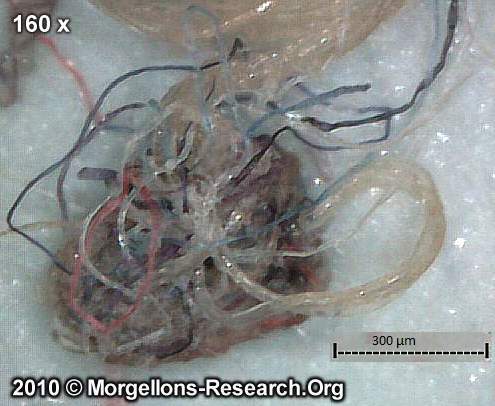 This picture below shows a typical black filament which is the base form perhaps the wildlife form.
Which is foundable almost everywhere e.g. in humans, animals, food, water purifications plants and so on...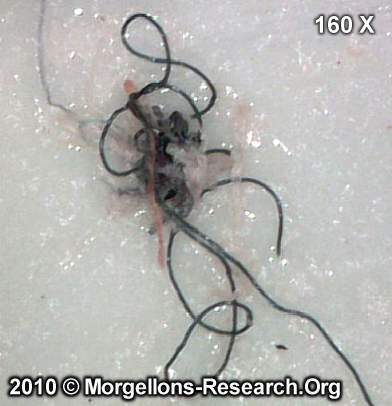 These fiber structures also released their protoplasm or biofilm between these fiber bundles (black specks) to fill up the empty spaces between them. (note photos below)

Accumulation of various fibrils soaked in their secretion (biofilm)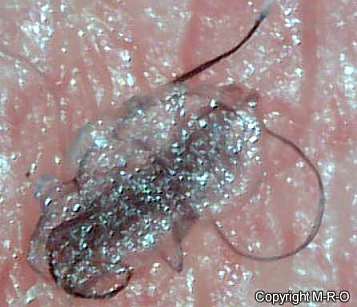 The biofilm, sometimes, creates between these fibers in this way, even abstract forms looking similar to insect bodies, with outgrowing tubuli, which quite often resembles insect legs, but they are not insects!
(note photos below)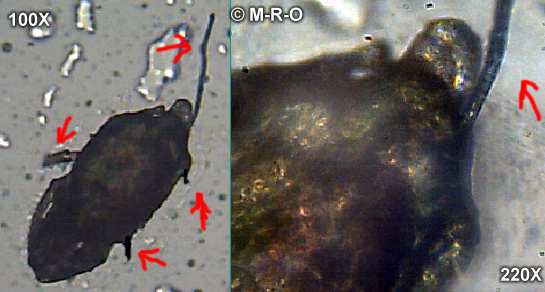 Note: This is not an insect or anything else, but living bacterial biofilm which has filled up the empty spaces between these fiber bundles (similar synnemata).

Oblong worm-like biofilm structures which previously grew out of black fibers


Cocoon, egg, cyst and slug or insect-like forms
See more pictures under "Microscopic Pictures"
The samples used for investigation consisted mostly of an accumulation of several fibers, mostly covered with organic secretions called biofilm. (note photos below)

The distinction between human tissue and organic bio-mass or fibers is often difficult to see and not always really recognizable because they create many types of cysts in the human skin tissue. (note photos below)

They are present not only as fuzz balls on the skin or inside the skin pores, but also inside of the human mucous and tissue or fecies. A presence of them is usually recognizable, sometimes only by the presence of bumbs (swellings) or outstanding glassy tubes. (note photos below)

The sticky, glass-like, self-substance (secretions or protoplasm) looks transparent and is sometimes semi-liquid similar to honey, light-reflecting (enzymes?) and later also becomes hardened. (note photos below)

Also cocoon or sporangia-like packages can be found in specimens or within the amorphous mass of the biofilm. The "leftover" of an cocoon or sporangia could represent the following picture below. It represents a oval, empty, hollow body, broken up in several places similar to discharge spores of sporangia of chytrids fungi. (note photos below)

Prior to transformation, this sporangia or cocoon-like object (polysacharide/cellulose-based) equipped with threads, appears at first glassy and later briefly darker and brown due to oxidation. Most cocoon or sporangia-like forms appear round with a few coated threads. (note photos below)
Glassy egg-like objects on dessicated organic wafer-like biofilm particles (see lower pictures)

Also these objects release kind of fiber elongations which can become sometimes 1-2 inches long. The fibers are very flexible and don`t have branches. Mostly, however, the fibers are glass-type in appearance with different colors (red, green, yellow, blue and pink), and seem to grow out of this cocoon structure. There are also mostly present long black fibers, which later can turn glassily transparent. (note photos below)

Some fibers or hyphae have a kind of hook on the tips and claw-like pseudopodia. (note photos below)

Compared to typical parasites, e.g. mites, which can bore into the Stratum granulosum, the bacterial biofilm or its tentacle-like elongations go even deeper, into the Stratum papillare, up to the hair roots where they extract the melanin (pigments) from the hair or the skin tissue (depigmentation patterns). The depigmentation patterns (white skin spots) or dark spots are a typical sign of a bacterial or fungal infection.

Blebs or amoeba-like macro forms are located on the scalp or ear and nose hairs. These round/oval-shaped formations have a consistency that rather resembles a bright candy gum. (Note photos above and below)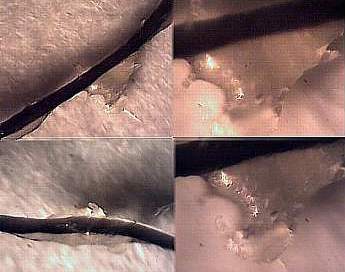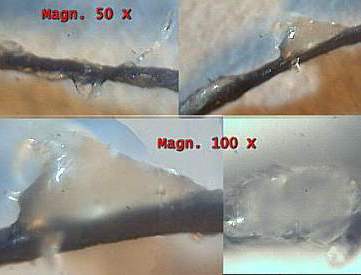 Multicolored fibers are recognizable in the biofilm mass of these forms, as well as some kind of gripping structures (similar to pseudopodia), which serve as attachments to the human hair. These objects are mostly concentrated on the human terminal hairs or inside the skin pores. (note photos below)

Their external cell-wall make-up consists of a typical polysacharid-cellulose layer, which can be strengthened or protected additionally with their own secretions. The filaments have an apical growth (at the fiber tips) and have no branches.
The fiber diameter can apparently become thickened, thus creating several protective layers.
The external cell wall can apparently absorb surrounding liquids and assume its color. In this case, it was blood. (note photos below).

If, according to some statements that Morgellons could only be a kind of mite or worm, then one has to imagine that a worm or mite could produce around itself many bizarre fibers, which can move. But the fact is there are no cocoon-spinning or thread-producing subspecies under mites or kinds of worms, .but known from bacteria.
Some of the black filaments or fuzz balls are interwoven together with some colored fibers, and when aroused on the skin give the impression of black specks. Bundles of colored fibers soaked in protoplasm can also have the appearance of black specks, depending on the perspective and light of the viewer, and because it has to do with light-reflecting or light-absorbing properties of the fibers.
These black specks have diameters that generally vary between 0.1 mm up to 1 mm. Usually, these are fibers rolled together and wrapped in their own biofilm (note lower pictures)

Most fibers (0.01 mm) are thinner than normal spider threads and physically behave similar to tear-firm nylon fibers. Some of these fibers appear nearly invisble on the skin. This may be due to the transparent and light-reflecting surface textures of single fibers.
If necessary, this life form can stretch out or roll these fibrils together, similar to butterfly feelers. Particularly, if they are located on skin or inside the skin pores, then the fibers are rolled together and surrounded with biofilm.
Unrolled, they adhere to the skin and some move on the human body. These movements have been seen from some bacterial biofilm too, such as Bacillus subtilis.
See scientific video of Bacillus subtilis motility with fibers
Insect-like forms:
The pictures below shows an organism (1), which has produced a kind of bridge between two nose hairs by means of its own biofilm or silk-like threads in order to move from one hair (2) to another one. If one hair is exhausted (grey), the organisms resettles to the next hair to absorb the melanin. (see lower pictures)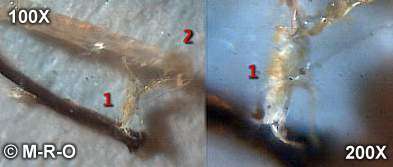 Automatically the impression develops, that this single organism has two legs and arms, a body and a head, with a kind of hook on the head. One also must doubt if this image really represents a fungus or bacteria. Rather this shape looks more like a stretched grasshopper/locust. (length 0.2 mm)

And this object below, also found within the nose, has a larval body but a mouse-like head. Is this an insect?

Also this ant-like object below was extracted by skin scrabing (USA, MA)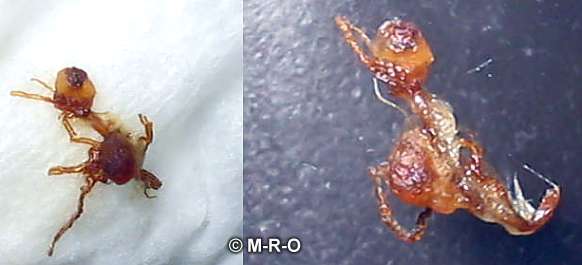 Note: Morgellons is not an insect but it may attract insects later due to bacterial ammonia production