Some, but not all Morgellons afflicted report that they have an excessive formation of sheddings/dandruff, or sometimes also double skin layers arise, which become partially detached. These are typical skin symptoms (hyperplasia or hyperkeratosis) that can occur in the late stage of a Lyme or Syphilis disease. Look at these pictures: these are no fake pictures of delusional conceptions!
Check also this link with similar pictures: One-Baby-Every-Hour-Born-with-Syphilis-in-China

Sheddings at the feet and a reduction of the connective tissue (collagen/elastin) at the hands or even at the genitals. Often it may start with ACA (Acrodermatitis Chronica Atrophicans) and red/purple discolorations.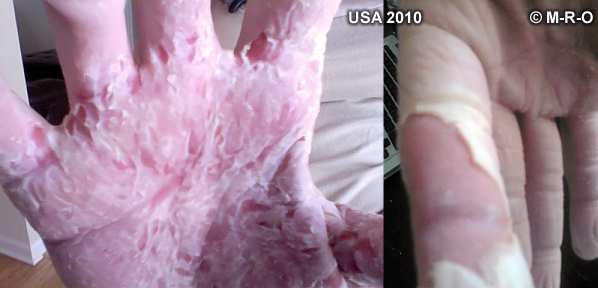 Some older dermatologists still know this rare skin picture in connection with Lyme or Syphilis. Many younger dermatologists don't know much about it, or even nothing at all, unfortunately. This may be the case, because disease rarely leads to such heavy skin manifestations in patients, perhaps because the patients had an appropriate treatment just in time, based on a previous positive blood test result for Borrelia or Syphilis infection.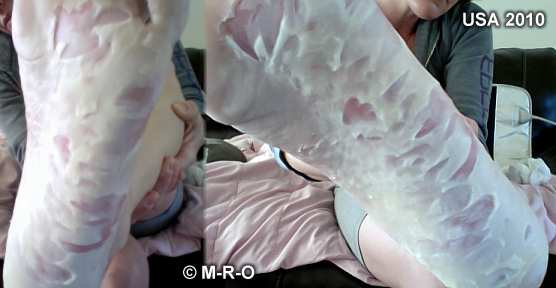 Thickened formation of skin layers, with some separation on the bottom and sides of the feet.

Sheddings and eczema-like areas also on the face and

the neck, chin, around the eyes and on the eye lids. In particular on the eye lids

have visible thickened, doughy, wrinkled and weak connective tissue.
Cortisone/steroid treatments instead of antibiotics worsened the overall picture enormously.

Above and below: also these types of keratin filaments (hairs) can be present due to an increased stimulation of hair glands by spirochetes present in the epithelial tissue.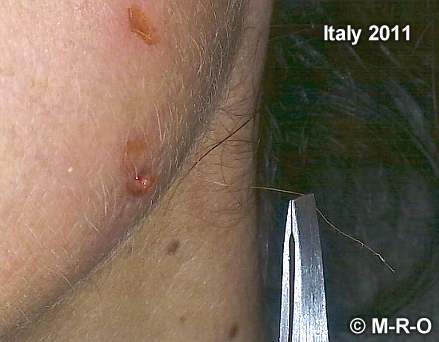 An Italian lab found out that some kind of glassy-white filaments were made of keratin and containing "no" collagen! These are real hairs (diameter: 300 micrometers) if visible like on the above picture. The lab confirmed with tests that they found carbon, oxygen, sulphur and traces of sodium. One human hair and one was probably from an animal. The colored ones which we call Morgellons fibers have nothing to do with these types of keratin filaments (hairs!) and they have a diameter of 1-3 micrometers and are 10 - 800 micrometers long, usually.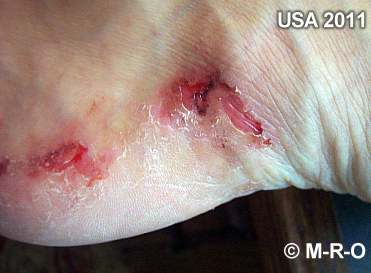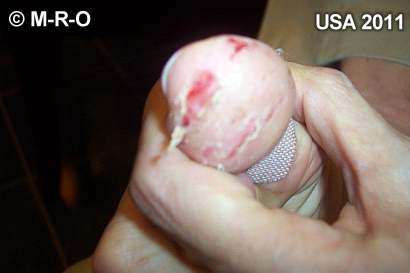 With Lyme disease, in particular at the feet, open wounds and increased cornea/callosity (thickening of skin) formations often arise. These wet or dry non-healing wounds are caused by Borrelia bacteria, which break through from deeper skin layers outward, due to a lack of immune defense. In such cases, just dabbing the wounds with lactic acid, or Lamisil, or hyperbaric oxygen treatments showed more improvement of or wound healing.